Internet addiction is fast becoming a growing problem in today's society. There are not many people in this day and age who do not have access to the internet via smartphones, laptops and PCs. There are even internet cafes available now in most high streets. The World Wide Web has transformed how we communicate information, knowledge and social media. Social media is the one that many individuals develop an addiction to; mapping out their lives and laying themselves bare for all to see on social media such as Facebook and Twitter. Social media alone has transformed the way we communicate and indeed what we communicate. You can even pick a potential partner online now via dating applications, or to feed a sex and love addiction  by selecting hook ups. The internet is accessible by most; it affects adults, teenagers and even children. It may seem harmless; as outwardly does not appear to harm anyone, but what about the individual who is addicted and their immediate family who lose the person to an online world of fantasy?
Internet addiction is harmful; as with any addiction, the individual loses true perspective of what is real and what is not; they are at the mercy of an overwhelming obsession and compulsion that can seriously affect their productivity, their intimate relationships and lead them to feeling empty, depressed and anxious. They come to know and lead a double life. The one they present online is usually very different from their own reality. Their mood is dictated by how many responses, likes, games they win, pictures they post, items they buy. Their life becomes increasingly unmanageable and their loved ones become increasingly more frustrated and resentful.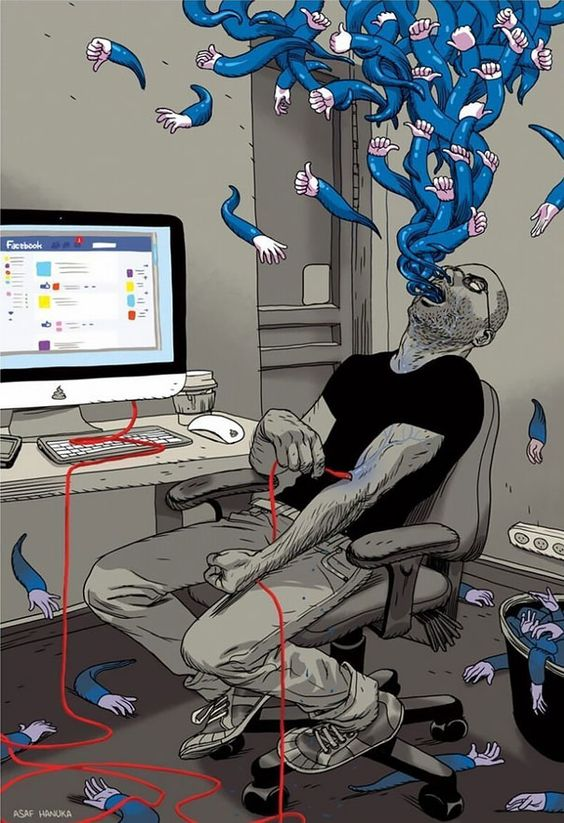 As with any addiction, including substances, it is the individual's mind that is the driving force behind their actions. Addiction is not a lifestyle choice, it is a recognised illness of the mind, that manifests in an obsession and compulsion that overrides all common sense and reason. We treat Internet addiction very seriously, we have experienced first-hand the damage it can cause to the individual and their loved ones. Individuals suffering from Internet addiction can become extremely unproductive, antisocial and isolated. This can lead to feelings of extreme loneliness and desperation; even to the point where they feel ending their life would be a better option than carrying on as they are. This is one of the reasons why we have no Wi-Fi available at our clinic for patients. This ensures that they stay focused on themselves and their recovery, as opposed to what is going on in the outside world.
Do I Have an Internet Addiction?
There is a vast difference between spending a little too much time online to having a full blown internet addiction. Addiction is a very destructive illness of extremes; that greatly impacts on all areas of the sufferer's life. It destroys the individual mentally and spiritually and has a great impact on those that are closest to them. If you are wondering if you, or someone close to you, have an addiction to the internet, it would be helpful to ask yourself the following questions and answer them honestly. This will assist in determining if you or a loved one have a problem that requires professional help:
Do you/they lose substantial periods of time surfing the Internet, gaming or on social media?
Do you/they suffer from lack of sleep or interrupted sleep due to staying up late on the internet or going online throughout the night?
Have you/they tried to limit use of the internet but fail to adhere to, or control the amount of time spent on.
Have you/they neglected responsibilities such as appointments, work, time with family or finances and health as a result of the time spent on the internet?
Do you/they hide what they are doing on the internet from others, indicating guilt
Do you/they seek affirmation, validation and compliments from those you do not really know?
Do you/they attempt to hide the amount of time spent on a laptop, computer, gaming device or phone?
Do you/they often feel guilty for the interactions you/they have with others, whilst spending time on the internet?
Do you/they use the Internet as a means to another addiction such as gambling, social media, dating, sex, porn or gaming?
Do you/they get frustrated with unproductivity in the real world?
Do you/they lie and manipulate the truth online to present a different reality?
Do you/they feel that social media is your/their only real source of human interaction and support?
Do you/they feel depressed, guilty, ashamed or anxious around Internet use?
Do you/they feel unable to make any real connection with the outside world?
Do you/they feel restless, agitated, anxious, irritable and dissatisfied when you not online?
Do you/they use the internet and stay online whilst everyone else is asleep?
Do you/they isolate and avoid social events as feel unable to cope with real interactions, or attend events but keep checking their phone and social media obsessively?
Has your/their time on the Internet negatively impacted on family, friends and loved ones?
Have you/they become emotionally unavailable to others offline?
Do you/they feel there is a lack of purpose in life and fear a life without the Internet?
Does using the Internet give you/they the feelings of comfort, affirmation and euphoria that you/they seek?
Do you/they want to reduce time spent on the internet, but find it impossible to achieve?
If you answer yes to one or more of these questions, there is a strong possibility that you have an Internet addiction. That being the case, you may want to read on to find out exactly how we can help you overcome it.
Oasis Bradford Internet Addiction Treatment Programme
Our detox and rehab clinic offers treatment for many addictions, including addictions that do not involve a substance, such as internet addiction, gambling,  love and sex addiction  and co-dependency . Classed as a process addiction, where an individual becomes dependent on an activity or behaviour as opposed to a substance; internet addiction can be every bit as damaging as an addiction to alcohol  or drugs . We provide a full rehabilitation programme for anyone who suffers from an addiction to the Internet in its varying forms.
The first step to recovery from Internet addiction is complete abstinence. At our clinic we provide a safe and nurturing environment where WiFi use is unavailable to all patients. For those with an internet addiction, this will mean working through some very uncomfortable and difficult feelings at first. Our staff will do all they can to support you through the detox period of complete abstinence from the internet. Whilst undergoing rehabilitation for internet addiction, you will also receive medical and therapeutic support for any co-occurring illness such as depression, anxiety disorder or another addiction or substance abuse problem. All of our staff are highly skilled and qualified; most have had their lives touched by addiction, so they know first-hand of its consequences and effects to the individual sufferer but also to the family and loved ones. Whilst with us you will receive only the best and latest in addiction treatments, including strong elements of the following evidence based healing therapies:
Cognitive Behavioural Therapy
Dialectical Behavioural Therapy
Psychotherapy
Counselling
Trauma Therapy
12 step Therapy
Mindfulness Fitness Programme
Holistic Therapies such as Art and Meditation
At Oasis Bradford, we understand how important it is to treat each patient as an individual. You will therefore receive a fully person-centred rehabilitation programme, designed specifically to meet YOUR individual treatment needs. No two individuals are the same, we therefore tailor your rehab programme to treat you as a whole person: spiritually, mentally, physically, emotionally and socially. In order to successfully treat an addiction, we offer comprehensive residential rehabilitation programmes that run from 4 to 12 weeks primary care and up to 6 months secondary care. For all of those that complete treatment, 12 months complimentary aftercare is available.
Let Us Help
If you or a loved one need help for an internet addiction, call us or chat to us LIVE, to find out more about how we can assist. We will do all we can to help you become free from Internet addiction permanently and show you how to live in and enjoy the real world once again.